Student Loan Debt & Bankruptcy in Michigan
Student Loan Debt & Chapter 7 Bankruptcy
If your own student debt principal and interest payments have taken too deep a bite out of your budget, you may wonder whether you should consider filing for bankruptcy and whether filing for bankruptcy could ease your student loan issues.
Student loan debt has placed a heavier burden on Americans than ever before, with $1.749 trillion in debt distributed among 43.4 million U.S. borrowers and an estimated average debt (when figuring both federal and private loans) of almost $41,000 per borrower. This debt grows even more burdensome in times of inflation and job loss. Here are 4 things you need to know about student loans and bankruptcy.
A Standard Bankruptcy Filing Will NOT Discharge Your Student Loan Debt
When government-backed student loans first appeared in 1958, bankruptcy courts treated this form of debt as fully dischargeable. However, in the decades that followed, Congress made it increasingly difficult for borrowers to discharge this debt, adding exemptions first to federal loans and later to all student loans.
As the law currently stands, a standard Chapter 7 personal bankruptcy filing will not do anything to eliminate your student loan debt. However, the relief from other crushing financial burdens might very well free up more of your available funds, which in turn will make those monthly loan payments easier to manage.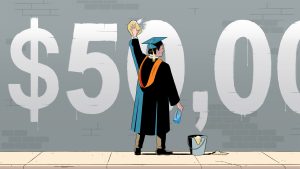 There Is Another Way to Discharge Your Student Loans
Federal law does allow one possible means of discharging your student loans in connection with a bankruptcy filing. To pursue this path, you would still file for personal bankruptcy, but you must also file a separate instrument called an adversary complaint at the same time. This complaint leads to litigation known as an adversary proceeding.
In an adversary proceeding, you and your lender exchange the necessary preliminary information before going to trial before a bankruptcy court. At the trial, you would do your best to make the case that your current student loan payment agreement places an undue financial hardship on you. The lender gets to make an opposing argument.
You Need to Meet Hardship Guidelines to Discharge Your Student Loan Debt
The federal government does not define precisely what it means by undue hardship. Instead, each borrower filing for a discharge must pass certain accepted tests to determine the validity of the request. The most common example involves a three-part evaluation known as the Brunner Test.
To pass the demands of the Brunner test, you must successfully demonstrate that you can't maintain a basic standard of living while paying your debts and juggling your other financial issues. You must also show that this situation will likely continue for much of the repayment terms and that you've genuinely tried to pay the debt.
Not every bankruptcy court relies on the Brunner Test. For instance, your court might employ a standard known as the Totality of Circumstances Test. In this approach, the court will evaluate every factor in your financial life that impacts your overall ability (or inability) to repay the student loan without suffering undue hardship.
Your Student Loan Discharge Can Happen in Different Ways
Following your adversary proceeding, the bankruptcy court may or may decide to make your student loan debt dischargeable. While this decision leaves you liable for the entire amount under Chapter 7 bankruptcy, you may get permission to make reduced payments for the duration of a Chapter 13 bankruptcy.
In the happiest scenario, the court discharges you from your entire student loan debt, freeing you from undue hardship and endless collection calls. However, the court might discharge only part of the debt, leaving you liable for the remainder. Alternatively, you receive only minimal relief such as a reduced interest rate.